Financials
TSD is one of the leading POP display industry players in the European and American market. Consolidated sales for 2012 were $3.5m, and our sales forecast for 2013 is $5m.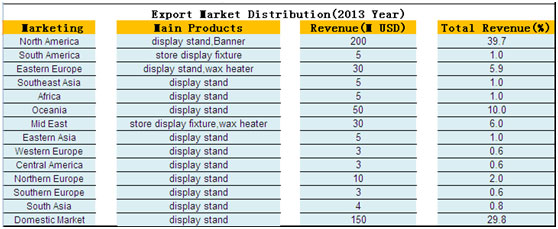 With 200 passionate people and 7000 suqre meters modern factory in china, we are the experts for retail design, construction management, project management, manufacturing.
Our products are sold to the domestic market and exported aboard, including France , Norway , Germany ,USA, UK, Russia, Australia, Malaysia, Thailand, South Africa, and etc. and We sell products to stores such as Saks Fifth Ave, BCBG, Forever 21, brandhouse ,H&M, walmart and more...
Our business to maintain an annual growth of over 30%,and 50% of our business comes from customers we have partnered with for more than 6 years.
TSD aims to become a major player in the global market for pop displays .we look forward to being a true partner in your success through our quality products and service.