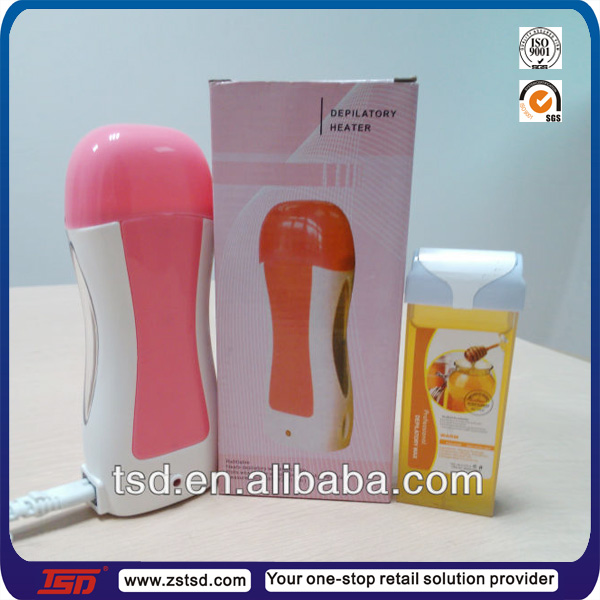 Specification:
1. Weight: 380g/ pc
2. Products size: 75*50*200mm
3. Inner box size: 100*60*220mm
4. Carton packing size: 500*235*515mm(40 pcs/ ctn)
5. suitable for the wax cartridge size of 50*20*140mm
6. Color: pink color in stock, other colors on request
7. Small and flexbile, easy to carry
8. Automatic heating
9. Have a cover to prevent dust. Semi-transparent design, can view cartridges wax melting status
How to use:
1) Before use , make sure the skin is absolutely clean
2) Insert wax to single roller hair removal wax machine
3) plug the wax machine and turn on it
4) heat the wax for 15-25min, then begin to use
5) move the products to direction that the hair grows and cover the area of 15-18 square centimeters make sure suitable the temperature of wax treatment. If wax is too hot, wait for a while then begin the operation.
6) Use the paper band on the treatment area, use hand to press down the hair grows.
7) Tear off the hair removal paper to the reverse direction that the hair grows
8) After hair removal, use the clearnser for hair removal to clean.
9) After cleaning, use the moisture without fragrance to do massage

Warning:
1. Do NOT place or store the device where it can fall or be pulled in to a tub or sink.
2. Do NOT place the wax warmer into water or any liquid, keep surrounding area dry.
3. Never operate the device if
(a)It has a damaged cord or plug;
(b)If it is not working properly;
Relevant Certificates
Related products